Corporate visual identity
The corporate image of the Universitat Politècnica de València reflects the personality of this institution clearly. The choice of typefaces, colours, graphic signs and compositional arrangements used was not a random one. To the contrary, they were selected so that the characteristic features of the university's image would be discerned at a glance. Therefore, they must always be respected.
In addition, the Universitat Politècnica de València logo can be obtained in different formats at the links below. Whenever possible, the horizontal arrangement of the logo should be chosen.

There is a vertical composition of the logo that is applicable just in square spaces where the horizontal composition can not be applied or whenever it improves the position/visualization of the UPV logo in relationship with the logos of other institutions.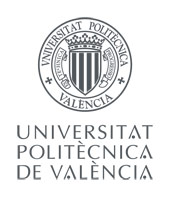 In case you have any doubt regarding the use of the logo, please contact imagen @ upv.es